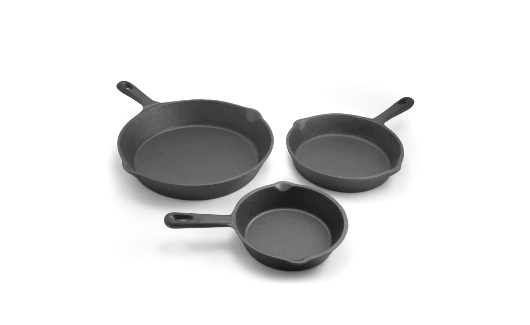 547 - ExcelSteel 3 Piece Cast Iron Skillet Set
Go beyond the everyday and elevate your cooking experience with this excellent 3 piece cast iron skillet set. With this set, you'll be able to cook, sear, fry, or sauté a delicious meal and enjoy the added benefits of cooking with cast iron! You'll be able to experience a hearty breakfast skillet or a mouthwatering steak. Each cast iron skillet can be used in the stove or in the oven and is both chemical-free and non-stick. This set has been wonderfully constructed out of heavy duty and durable cast iron to ensure a long-lasting product that is reliable for everyday use. For proper care, season after each use and avoid washing with soap when possible.
OPEN STOCK:
543: 5.75" 544: 7" 545: 9"